Tile and Grout Cleaning
In addition to carpet, other floor coverings have been gaining popularity, particularly in Florida. Ceramic tile and grout, like carpet, needs to be deep cleaned in order to preserve its original beauty. Bumblebee Cleaning LLC uses a combination of chemical agitation and hot water pressure to remove deep ground-in stains, oils and bacteria to make your tile and grout glowing like new.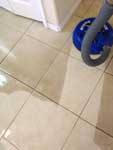 Freshly cleaned tile and grout floors will give a bright outlook to your kitchen, bathrooms, and anywhere you step upon ceramic tile below your feet. Some homes in Florida are tile and grout floors throughout - imagine the difference a deep cleaning will make to a house like this! Many homeowners have never seen the possibility that their tile and grout has to sparkle and shine. Let us give you a complimentary demonstration on any area in your home to see the difference our tile and grout cleaning service can make.

In order to clean your tile and grout in a safe and effective manner, Bumblebee Cleaning uses hot water in a controlled environment with the waste vacuumed to an onboard recovery tank. This is fast, precise and affordable with drying times quickerthan wet mopping.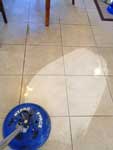 If you have found that you simply cannot get your tile and grout as clean as you would like, contact Bumblebee Cleaning for a free demonstration and estimate. We have offices in both Ormond Beach and Port Orange, Florida and cover all of Volusia and Flagler Counties.

We are so sure you will be amazed at the difference, that we will do a free demonstration of our tile and grout cleaning on any area you choose. Contact us for a free estimate for tile and grout cleaning in the Ormond Beach and Port Orange area or take advantage of our Summer Specials: