Tile and Grout Cleaning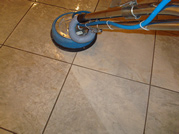 Bumblebee Cleaning LLC's stone, tile, and grout restoration services offers a wide variety of cleaning and restoration options for all of types of hard floor surfaces.
Most people only notice the condition of their tile, stone and other hard surfaces when they become visibly soiled. But by the time it's noticeable, layer upon layer of stains, bacteria, and mineral deposits will have already become deeply embedded in your floor's surface. It used to be that neglected floors, showers and countertops had to be replaced once they reached that state - but now you have a better option. With our proprietary cleaning system, Bumblebee Cleaning can restore soiled tile, concrete, natural stone, and grout to like-new brilliance in a single visit. Bumblebee Cleaning also can protect your hard surfaces by applying a wide variety of sealers and finishes.