New Smyrna Beach , Florida Upholstery Cleaning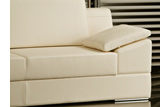 Upholstery cleaning is a specialty that many New Smyrna Beach carpet cleaning companies can handle for you. There are several methods of upholstery cleaning and which one is used to treat a particular stain is largely dependent on the type of stain and the material being cleaned. The two basic methods of upholstery cleaning are either wet or dry and both of them can be used with great success if done correctly.
Upholstery cleaning is a skill that takes a lot of practice to master and if you have a stain on a piece of furniture, call a professional to help you remove it. If you try to use a product to clean it yourself first, you may do more harm than good. Many stains need to be cleaned on the first try and if you attempt to clean it and are unsuccessful you may actually make matters worse by setting the stain deeper into the fabric. Also, moisture can be a good cleaning aid if properly used. The danger is that if you use too much moisture you run the risk of mold or mildew forming in the furniture and this can destroy the upholstery and is also a health risk.
If you are looking for professional New Smyrna Beach Upholstery Cleaning, then please don't hesitate to call us at (386) 566-7747, or fill out our online contact form.