Daytona Beach Furniture and Upholstery Cleaning
Bumblebee Cleaning, LLC offers complete cleaning and protection for all types of furniture.
Professional cleaning of upholstery: Our company uses truck-mounted or portable steam cleaning, delivering the deepest clean possible. Over time, dirt and oil will build up in your upholstery fibers causing the discoloration of the furniture's natural colors. Also, the build up of dirt and pet dander can lead to unpleasant odors and poor air quality. Our trained technicians will inspect your furniture and recommend the proper cleaning to restore your upholstery's natural look.
Professional cleaning and conditioning of leather: Our deep down, professional leather furniture cleaning will remove dirt before it damages your furniture. Stains will vanish too. Our cleaning products work thoroughly but gently and are matched to different types of leather finishes. They are also PH balanced and specially formulated for leather upholstery. After cleaning your couch, chair or sectional, we apply special conditioners that restore the suppleness of the leather, replenishing its natural oils. Our cleaning and conditioning will renew the beauty of your leather furniture.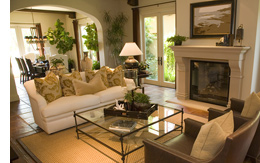 Our promise:
Your furniture will look and feel cleaner. You will be amazed at the difference. Bumblebee Cleaning, LLC uses only safe non-toxic and bio-degradable chemicals. We promise to clean and protect your furniture thoroughly using the standards set forth by the IICRC Cleaning and restoration institute. We guarantee your satisfaction and will return to re-clean furniture if you are not satisfied.
Our services:
Commercial or residential furniture cleaning
Truck-mounted or portable hot water extraction or steam cleaning
Upholstery cleaning for all household furniture
Upholstery cleaning for car interiors including carpets and mats
Pet stain and odor removal
Leather cleaning and conditioning for all household furniture
Leather cleaning and conditioning for automobiles
Fiber protection for upholstered furniture (Scotch guard or Teflon)
Bumblebee Cleaning invites you to benefit from our furniture cleaning services. Enjoy cleaner furniture at a reasonable price. Call us now at 386-566-7747 for all your commercial and residential needs.
Testimonials
Delores Gaines
Homeowner, Daytona Beach
"Bumblebee Cleaning cleaned my tile and grout and restored it to its oringinal beauty. I also had Bumblebee Cleaning deep clean my sofa and loveseat. John did a fabulous job and charged me $10 less than the previous company. Very Happy!"
Connie Rice
Homeowner, Palm Coast
"We have had several cleaning companies over the years since we moved to Palm Coast, Florida. It is safe to say that as soon as we used Bumblebee Cleaning the first time, there would never be another company stepping foot in our house. They did an incredible job of cleaning our home and included top notch carpet cleaning as well. They are punctual, courteous, professional, and fast."
Linda Wallace
Homeowner, Port Orange
"Bumblebee Cleaning started cleaning my home four years ago. I was a little concerned about allowing someone in my home when I'm not there; Tracy was very understanding and professional and put my mind at ease. She also told me that they were licensed and insured and that I had no worries. And she was right. Now their business has expanded and her husband John has joined her. They are offering all kinds of services now to help the housewife or the hard working professionals to keep their houses or businesses clean."